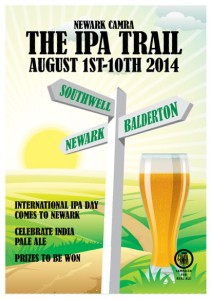 Just Beer Micropub is delighted to be part of the 2nd Newark CAMRA IPA Trail, which starts on August 1st and runs until the 10th, encompassing International IPA day which this year is on the 7th.
We have worked hard to find some cracking beers covering several IPA styles for your enjoyment and are are pleased to announce our list as follows, in alphabetical order (all subject to delivery, of course):
We will be featuring two of the IPAs at any one time over the 10 days, so stay posted on out Twitter feed and Facebook page to know when which beer is being served. Any changes to the lineup above will be posted here in good time.
Just Beer served the beer voted IPA of the Trail last year, the mighty 'Punch the Clock' Double IPA at 7.8%, a one-off collaboration brew between Revolutions and the North Riding Brewpub. Let's see if we can do it again this year!
Please give us your feedback on the trail and share with others by using the hashtags #ipaday and #ipatrail on all your posts.
Have fun and Happy IPA Day!