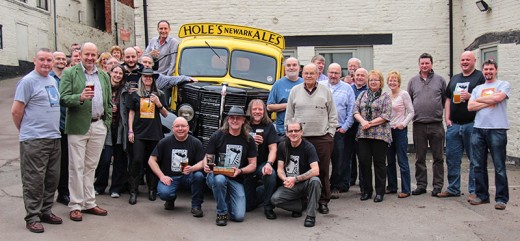 We can now officially say we are Newark CAMRA's Pub of the Year 2014. This is the third sucessive year JB has won the coveted award (do we get to keep the trophy?) – the first time this has been achieved in branch history – which has made it even more special for us. The presentation took place yesterday – Sunday 23rd Feb and was well attended by CAMRA members, regulars and first timers alike.
The trophy was presented by the Newark CAMRA POTY Co-ordinator, Andrew Birkhead, after a short speech by Branch Chairman David Moore. David spoke about the many attributes that are needed to win the competition, the main two being quality and consistency – both of which Just Beer delivered in abundance.The short presentation was followed by a free buffet and much swilling of excellent beers from new breweries Songbird, Pilot and Kinneil Brew Hoose.
Just Beer would like to send out a massive thank-you to all our customers who have supported us over the last three years and helped to make the pub such a success. Big thanks also to James Wilkinson of Newark Marina who brought the Holes Brewery dray wagon down for some photo oppertunities to make it a fantastic day to remember.