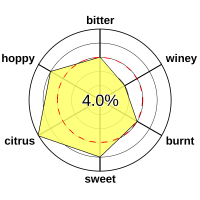 An excellent new way of describing a beer's characteristics  based on a visual clue came to our attention recently.
PintPicker.co.uk have devised a new and simple way of describing a beer graphically, using six basic characteristics – Bitter, Hoppy, Citrus, Sweet, Burnt and Winey (not sure about that one – should it be 'fruity'?) on a scale of 0-5, then joining the points on a taste 'wheel' to give a graphic shape of the beer's taste. Filling the shape with the beer's colour gives a very good indication of the beer's nature at a glance. A red circle gives an indication of the beer's body (or fullness).
In theory, you just need to know your favourite beer style's shape and colour and that's it. Of course, it's not perfect and needs a bit of tweaking but it is a great way of describing beers and avoiding the much maligned, pretentious beer descriptions used by some beer reviewers.
Check PintPicker's website out here where you can download your own tasting cards. Just Beer will keep an eye on the system with a view to adopting it in the future. Thoughts and comments, please.