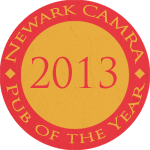 It has just been announced on Newark CAMRA's website that Just Beer has won the branches' coveted Pub of the Year award for 2012. JBs and eight other pubs were in the competition this year so  we are especially delighted to receive the top accolade.
The Four Tapsters are over the moon at the news and would like to thank everybody involved: Our customers, Newark CAMRA, our Mums and Dads, the assessors, their Mums and Dads, whoever nominated us, Ninkasi (Goddess of Beer), the Baby Jesus and Princess Diana. We salute you all. Thank You!
There will be an official presentation of the trophy on Saturday 18th February at 2.00pm. Everybody is welcome and there will a few treats, so please come along!