Phil had the pleasure of playing host to Sue Milam, a freelance travel writer from California,who came over to these shores to research the micropub concept. She had already visited the Rat Race Ale House in Hartlepool and JB's was next on the list.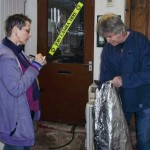 Although we have no pub yet, she was still content to meet up and be shown the outside of the premises (we don't have keys yet) and to discuss our plans. I then took her over to Maypole brewery in nearby Eakring where she met with brewer Rob Neil.
We then went to the Castle pub in Newark, where she had another good angle for an article, as landlords Tony and Heidi Yale recently settled in England from Australia and got into running a Real Ale pub.
Late afternoon, I walked her back to the station where she was catching a train to her next port of call, the original micropub – the Butchers Arms at Herne Bay.
Sue Milam maintains a travel blog here. Thanks for taking an interest in Just Beer sue. It was a pleasure to meet you.