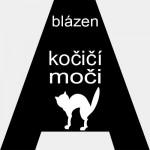 After 20 months of selling only cask beer, we have decided to introduce a keg lager onto the bar at Just Beer. In keeping with our ideals, this will not be a mass produced product. No, Sireee!
After much research, we have managed to source a lager from the brand-new Blázen micro-brewery from the Czech Republic. This is the first time any of their beer has ever appeared in the UK and the 4.5% keg lager, Kočičí Moči (pronounced Kochichi Mochi), after months of negotiation with Pivovar  Blázen, will be available exclusively in the UK from Just Beer.
Because of our investment in dispense equipment and due to the rarity and exclusivity of this beer, it will be priced at £6.50 a pint which, compared to other similar 'craft' products of such quality, we think is very reasonable.
Kočičí Moči will be available at Just Beer from today. Totally kegtastic, mate!