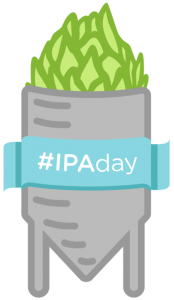 It's International IPA Day! And to celebrate in style, Just Beer is taking part in Newark CAMRA's 1st IPA Trail.
Expect an eclectic selection of IPA styles at Just Beer – three on the bar at all times during the Trail, which runs from today through to Sunday 4th (stocks permitting!).
To kick off today, we will be featuring a North Riding/Revolutions collaboration brew, Punch the Clock. Brewed at the North Riding Hotel in Scarborough, this 7.8% is an American Double IPA. Yes DOUBLE! With a B-I-G hop hit and MASSIVE citrus fruit character you can't fail to see why. Instead of 'Punch the Clock' this one ought to be called 'Smash the Taste Buds'. Trust us – you don't want to miss this bad boy. Get it while you can, it won't last long!
Second up, we are supporting LocAle and serving Maypole Red Eye PA at 5.2%. A traditional, full-bodied English IPA with bundles of juicy malt flavour with a hoppy, slighty earthy aftertaste. Perfect for those who don't want the in-your-face hoppiness of the American styles.
On the third wicket we have Brewhouse and Kitchen Black Swan Black IPA at 5.7%. Black IPA? Yep, you better believe it! Brewed at the recently opened brewpub, the White Swan in Portsmouth, this is another American adaptation of the IPA style, it brings together the roast character of a stout but adds a big dollop of hops to give that smack that the hopheads crave. Misnomer or not, it's a beer style you've got to got to admire and this is a great example.
Come and try them, join the IPA Trail and collect the stickers in each pub to be in with a chance of winning some great prizes. Share your photos, videos, and thoughts with the world. Be sure to tag your posts with the #IPAday hashtag and then see what other people are saying on Twitter by searching #IPAday.
Enjoy the Trail and remember to watch the strengths of those beers!
Cheers,
The Tapsters.