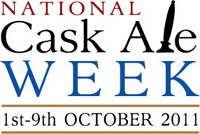 National Cask Ale Week is a campaign organised between CAMRA and Cask Marque. The main objective is to get more people trying real ale and encourage more pubs to organise real ale events throughout the week.
JB's is doing its little bit by featuring beers from four brand-new breweries; Geeves and Revolutions brewed their first beers in the middle of July. The Blackedge and Cross Bay breweries started production only last month.
As a bonus, we have a once-only beer to offer you. The beer from Revolutions is a 7.8% Imperial Russian Stout called 'Propaganda'. The beer has been brewed as a protest against the duty increase on beers over 7.5% which comes in to effect on the 1st October.
To get you in the mood, we have another beer from a brand-new brewery tapped and ready to go any time now; Thunderbird, 4.5%, from the Kite brewery in Cross Hands near Llanelli in Wales. The beer will be on imminently – follow our Twitter feed or Facebook page to find out as soon as it comes on the bar.
Happy imbibing, everyone. And remember… bif! Beer Is Fab!